Game Day Information
Date: Friday, October 1, 2021
Opponent: Medina Bees
Call Time: 4:15pm
Game Time: 7:00pm
Special Event: Homecoming and Parade
The game will be televised live on ESPN2 so no live stream options will be available.
Ticket Information: BUY TICKETS HERE
$10.00 - Reserved
$7.00 - Adult
$5.00 - Student
Competition Information
Date: Saturday, October 9, 2021
What: Avon Lake Band-A-Rama
Call Time: 8:00am
Show Time: 1:15pm
Awards Time: ~2:00pm
Website: Avon Lake Band-A-Rama
Where: Avon Lake High School, 175 Avon Belden Rd, Avon Lake, OH 44012
TENTATIVE Schedule: TBA
Ticket Information: Tickets purchased at Gate ONLY
$8.00 - Adult
$6.00 - Seniors and Children
under 5 Free
Competition Information
Date: Saturday, October 16, 2021
What: Brunswick Sound Spectacular
Call Time: TBA
Show Time: 3:15pm
Awards Time: ~4:00pm
Website: Brunswick Sound Spectacular
Where: 3581 Center Road, Brunswick, OH 44212
TENTATIVE Schedule: TBA
Ticket Information:
$8.00 - Adults
$5.00 - Seniors and Children
$5.00 - Military (Active or Veteran)
2021 Fighting Cardinal Marching Band Calendar of Events
Please follow this link to find the calendar of events for the upcoming Summer and Season for the Marching Band and Practices.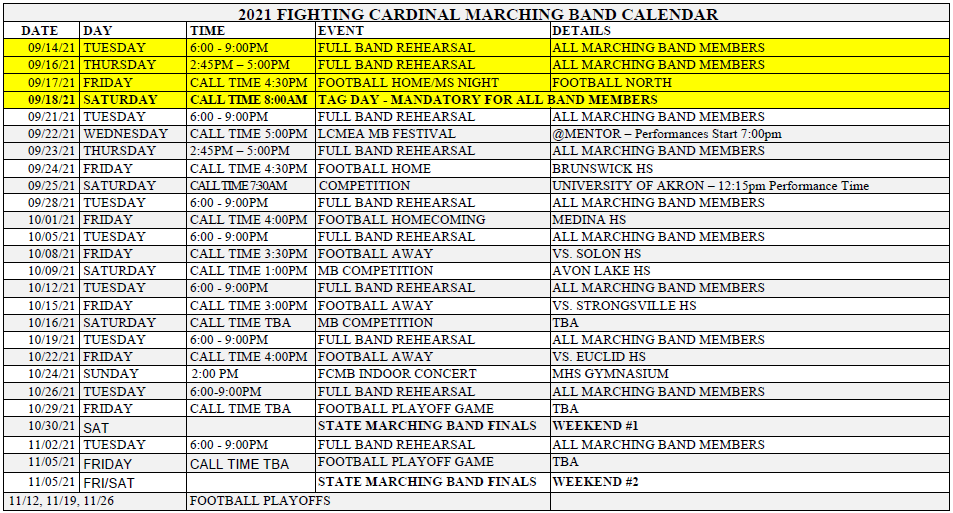 FCMB Information - Week of 09/27/2021
CONGRATULATIONS

 
FCMB!

After a long 680 days away from competition, the FCMB marched on the field and put it all out there, and earned a SUPERIOR rating at the University of Akron. Congratulations on qualifying for STATES - you make us all proud!
TENTATIVE date for States is October 30th in Columbus, early evening.
50/50 Raffle Sellers needed for Homecoming game, 10/1
We are looking for some more energetic, outgoing, volunteers to help sell 50/50 during the first half of the football game as we expect a large crowd. The Cardinals are playing Medina and the game is being televised nationally! The 50/50 raffle is Music Mentors fundraiser as concessions goes to Cardinal parents.
Sellers can get fingerprinted tomorrow, Wednesday, Sept. 29 from 11:30-4:30. Sellers get into the game for free and after the first half of the game are welcome to stay and enjoy the game. If you are interested in helping us out, please email Christina at raffle@musicmentors.org
SCHEDULE FOR THE WEEK
| | |
| --- | --- |
| | Tuesday, 9/28: Rehearsal. 6 - 9 pm |
| | |
| --- | --- |
| | Thursday, 9/30: After school rehearsal 2:45 - 5 PM |
| | |
| --- | --- |
| | Friday, 10/1: Homecoming Football Game , Call time 4:15 pm. Homecoming Parade |
Upcoming events:
Saturday, October 9th: Avon Lake competition; Call time is 8 AM and performance will be at 1:15 pm
Saturday, October 16th: Brunswick Sound Spectacular competition, performance time is 3:15 pm, call time TBA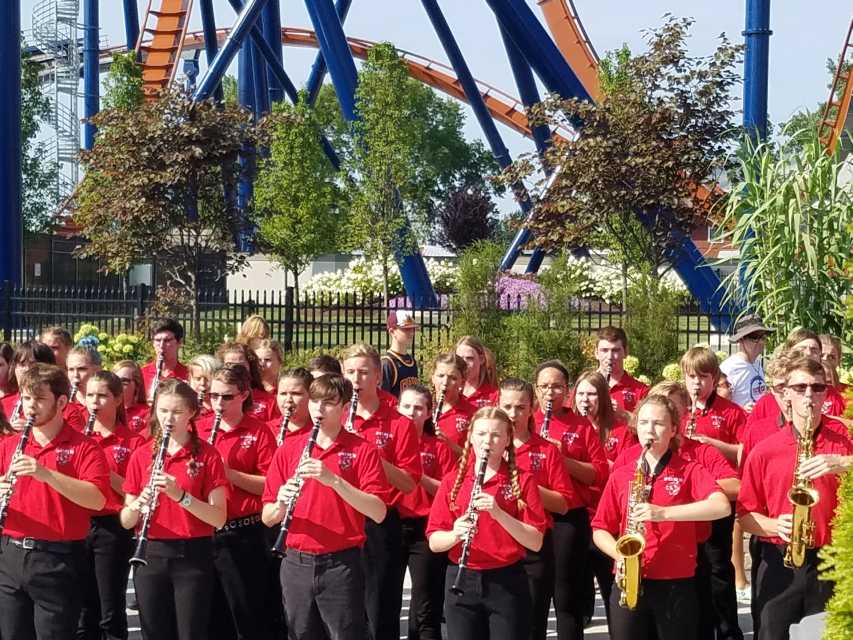 Don't Forget
Amazon Smile
Amazon will donate 0.5% for every qualified purchase made through their "Amazon Smile" program.  Use this link to set "Music Mentors" as your Amazon charity, then do all of your shopping at Smile.Amazon.com
Support Our Sponsors - Click thru to see all of the businesses that support Music Mentors
visit the Sponsors Page to see all that have helped and supported us through the year!