2021 Fighting Cardinal Marching Band Calendar of Events
Please follow this link to find the calendar of events for the upcoming Summer and Season for the Marching Band and Practices.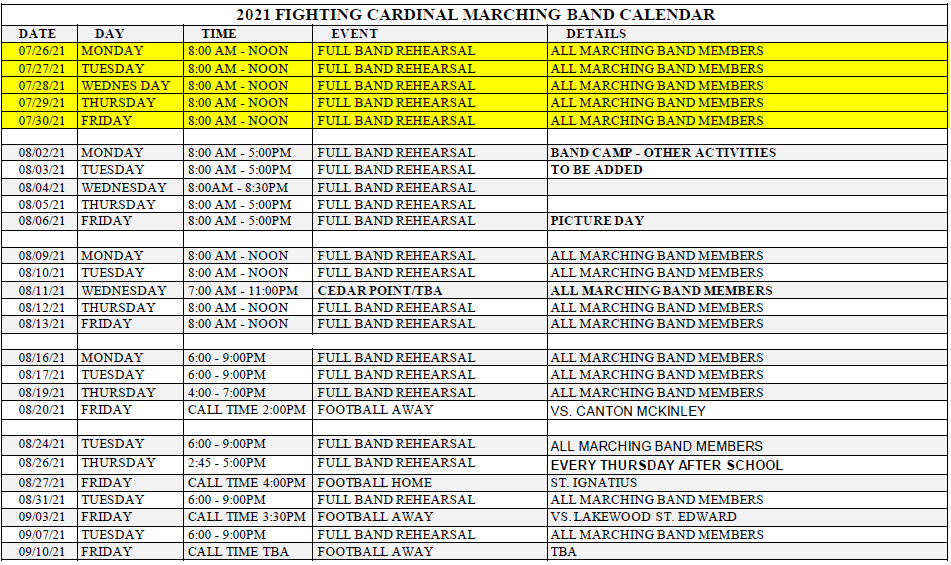 FCMB Information - Week of 07/26/2021!
I hope everyone had a great first week! Keep the momentum growing! Please stay tuned to the emails as we will highlight what is happening each week.
HELPFUL TIPS FOR A GREAT SEASON
It will be warm this week! Don't forget to eat, HYDRATE and bring your sunscreen!

Please remember dismissing 200 students takes time. The end time is when practice ends, then the students walk back to the school and gather their belongings so it may take a few minutes.

Make sure you and your student are subscribed to these emails.
FORMS & PAYMENTS
You will find all of the forms that you need by going HERE. For future reference:
Music Mentors home page > Links/Forms > FCMB
If you haven't completed your paperwork (Emergency medical form and uniform form) please do so ASAP. The sooner we get all forms in, the sooner we can get items ordered.

ALL STUDENTS need to complete a uniform form, if only for the FCMB Fee and Cedar Point ticket or fee

FCMB Spiritwear is OPTIONAL. There will only be 2 orders placed this year. Any order turned in by tomorrow with payment, July 26th, will be placed in the first order. Second deadline will be mid August.

Checks are made payable to Music Mentors. Just a disclaimer, there is a $35 fee for returned checks.

Fee clarification: The $20 FCMB fee helps us offset our costs for supplies, treats, guest instructors, etc. throughout the FCMB season. The Pay to Participate fee of $200 is a DISTRICT fee. Music Mentors does not collect that fee, nor do we receive any part of that fee. It is paid through the Parent Portal with your other school fees.
GETTING INVOLVED
I'd like to announce our new Hospitality Chairperson. Jess Thellman. Jess will be reviewing any emails in the hospitality email box soon and she will be in touch with those that would like to help out.
Reminder: For right now, the ABOUT US page, on the website, has been updated with all our current chairpersons, and those names will link you to the email for that committee. There are descriptions for what each of our committees is responsible for. I highly encourage all of our families to take a look at this page and email our committee chairpersons to get placed on their volunteer list. WE NEED VOLUNTEERS FOR ALL COMMITTEES (with the exception of webmaster). If you are interested, please email the appropriate committee chair your name, student's name/grade, cell phone number and email address. They will then be in contact and let you know when you should head up to be fingerprinted. I hope to see lots of new faces! Again this is done at the Board of Education. As we get further into the season, we will let you know when you should plan on getting fingerprinted if you will be volunteering. For right now fingerprinting is available Monday, Wednesday and Friday from 11:30 am - 4:30 pm. You must have your driver's license with you.
SCHEDULE
Monday - Friday, July 26th - July 30th: 8-noon: Full band rehearsal That's all for now folks! Remember, if you have any further questions, please don't hesitate to reach out!
***
Follow us on Twitter
@MentorFCMB - Mr. Poremba
@musicmentorsmhs - Music Mentors
@MentorMSBands - Mentor Middle School Bands
FCMB Registration
Below is the FCMB registration link for your student to make sure they enter in they enter in their personal information for our 2021-2022 FCMB roster.
Please complete this as soon as possible.
FCMB Parent Meeting from 06/09/2021
Hello Fighting Cardinal Marching Band Parents:
Please visit the link below for a recorded version of the meeting held on Wednesday, June 9 over Zoom.
Congratulations to our Mentor Music Scholarship Recipients!
1st Place - Sarah Freeman
2nd Place - Sarah Imhoff
3rd Place - Lizzie Rayl
4th Place - Sabrina Gorbey
Congratulations to all and Good Luck to all Seniors!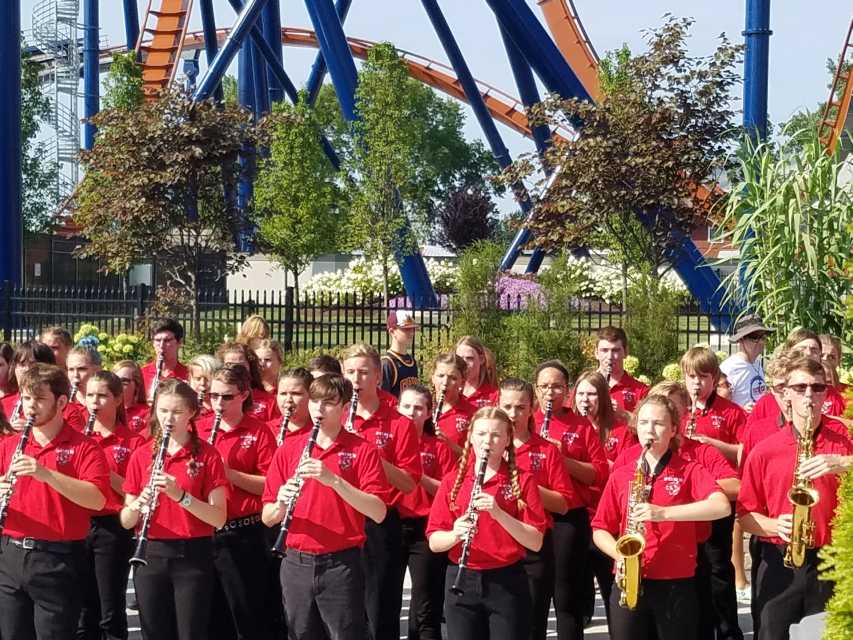 Don't Forget
Amazon Smile
Amazon will donate 0.5% for every qualified purchase made through their "Amazon Smile" program.  Use this link to set "Music Mentors" as your Amazon charity, then do all of your shopping at Smile.Amazon.com
Support Our Sponsors - Click thru to see all of the businesses that support Music Mentors