This email is chock full of information for this week so it will be a handy reference for you but as always if you have any questions or concerns, don't hesitate to ask!
ALL DAYS:
Bring lots of WATER!
Pack a healthy lunch (make sure you have an ice pack in it if there is something perishable in there).Sunscreen, hats, and a drawstring bag makes carrying things easier.
Sunscreen, hats, and a drawstring bag makes carrying things easier
Wear good comfortable shoes!
EAT a good breakfast before you come!
We may have some unexpected treats show up so keep your fingers crossed!
Just a reminder – we ask that all families donate a case of water for the season. We use these for 3rd quarter meet and greets with the visiting bands. You can drop those cases off in the band hallway any time this week!
Monday, July 30th, "Character Day" 8 am – 5 pm
▪ All marchers will get a "Cool" treat at lunch time!
▪ Make sure your tie-dye shirt is washed for Tuesday!
▪ Picture forms/envelopes come home today
Tuesday, July 31st, " Tie-Dye Tuesday" 8 am – 7 pm; Dinner Day
▪ Wear your tie dye shirt!
▪ Dinner served by Music Mentors: Fried Chicken breasts, baked potatoes, salad and watermelon, water provided. Dinner approximately 4:30 PM
Wednesday, Aug 1st, "Beach Day" 8 am – 10 pm; FCMB BBQ Day
▪ This is a long day!!! Don't forget your bathing suit or swim trunks and towel.
▪ FCMB BBQ begins at 5 pm. Please remember – everyone is asked to contribute an item to the BBQ. If you would like to drop it off early, please let me know. Marchers eat at 5 and we want to make sure there are plenty of choices for our kids!
▪ Practice after the BBQ is a CLOSED practice at the stadium. The FCMB needs to use the time to get pre-game done as they are losing an hour of practice this year with the pool party being moved up an hour. Therefore we are asking for no audience at the practice. We appreciate your understanding!
▪ Pool party is for members of the FCMB ONLY!  Leftover food from the BBQ will be brought over to the pool for the kids.
Thursday, Aug. 2nd, " Section Theme Day" 8 am – 5 pm, Shaving Cream Showdown
▪ Another cool treat for the kids today at lunch!
▪ Don't forget your shaving cream!! It MUST be menthol FREE!
▪ Don't forget some towels so you can dry off before you get in the car to head home!
▪ For those who want to watch, we will be in the area behind the student center. Showdown starts at 5ish! Bring your cameras!!
Friday, Aug. 3rd, "FCMB Spirit Wear Day" 8 am – 5 pm Picture Day
▪ Don't forget to bring your picture form and money!!!! You must have payment and forms with you!
▪ Leftover treats from the week given out at lunchtime!
▪ Pictures are done in groups first, then individuals are done by Seniority. Keep in touch with your marchers as to when they are ready to be picked up.
Forms:
There are a few students who still need to complete forms! Please remember that ALL members need to complete:
1. A hard copy of the OMEA Emergency Medical Authorization Form.
2. A hard copy of the FCMB Field Trip Permission Form
3. Uniform Supply order form. Band Supply Form or Guard Supply Form. THE CEDAR POINT TICKET IS PURCHASED ON THIS FORM!
4. Log in to Final Forms and complete JUST the sections titled Contact Information and Emergency Medical Authorization. You can disregard the section Band Field trip permission form and just as a reminder, a physical is NOT needed to participate in Marching band.
Don't forget to take a look at our FCMB Tip Sheet!
http://musicmentors.org/wp-content/uploads/2018/07/FCMB-TIPS.pdf
The FCMB BBQ reminder!
Our annual FCMB BBQ is August 1st! Responses for how many hot dogs your family will need were already due. If you need to still RSVP, please email Kary Vogel at hospitality@musicmentors.org. Also, Kary needs lots of helpers for this event. If you'd like to lend a hand, please email the above address.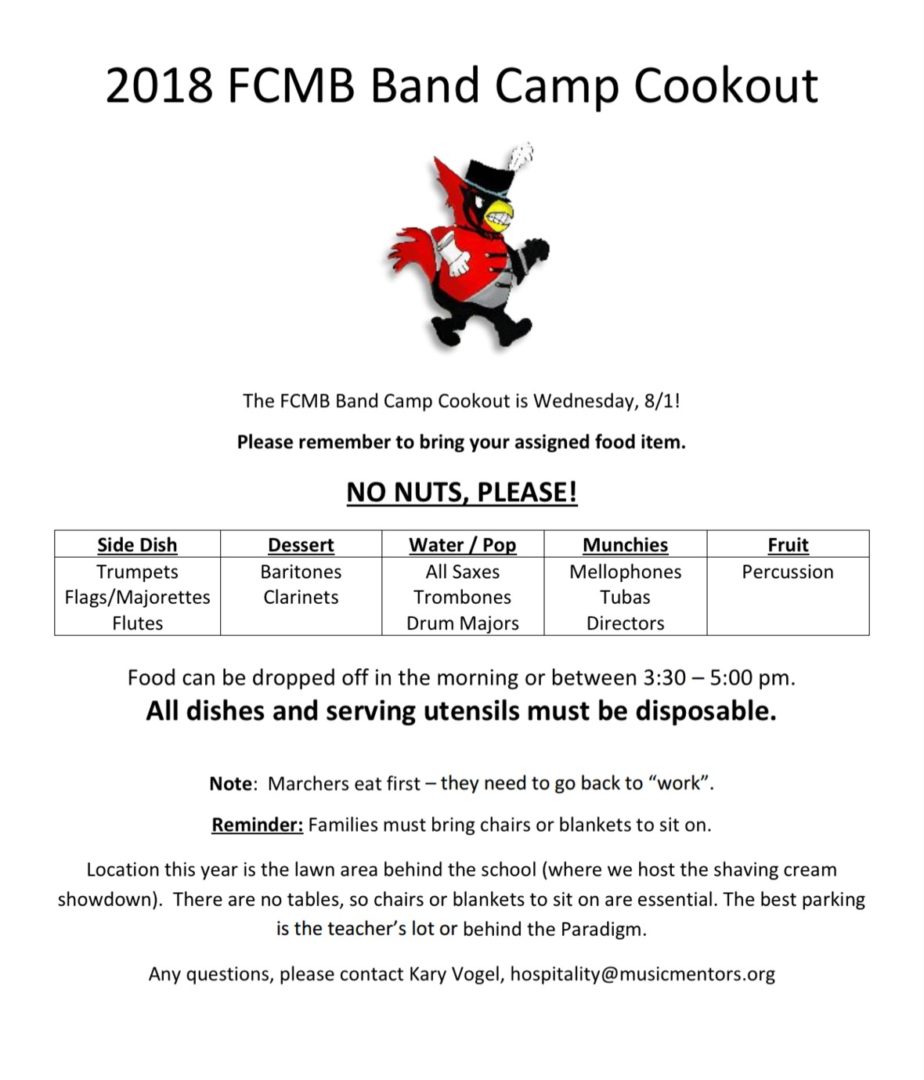 Upcoming Dates!!
Aug. 6 & 7th: Rehearsal is 8 am – noon
Aug. 7th: Schedule pickup for all FCMB Students from 4-7 pm
Aug. 8th: Cedar Point Call time is 7 am. Students wear their red polos, a pair of black Docker-like dress pants (no stretch or yoga pants), black Dinkles and black socks. Students should bring extra clothes to change into and money for the day.
Aug. 9th: Freshman orientation 8:30 AM – 11:30 AM
Aug. 9th: Rehearsal 5 – 9 pm
Aug. 10th: Rehearsal 8 am – noon
Volunteers and Fingerprinting
Fingerprinting is required of all our volunteers. Parents and Adults that plan on volunteering in any capacity: you are required to go to the Board of Education before you can volunteer. The summer hours will be 7:30 AM – 4 PM. Please have your driver's license with you and your Social Security number. When you arrive, you will let them know which schools you have children in and also mention the FCMB. It only takes a couple minutes.
For those students/families no longer in marching band or any concert band who wish to not receive these emails, please hit the "Unsubscribe" link at the bottom of the email. Thank you.