I hope all the students had an awesome time last week at band camp!! It sure looked like they did! They put in a ton of effort and time last week that I have no doubt this year's performances are going to be great!
Thank you to all our families that donated for the BBQ on Wednesday and that came to kick-off the new season with the marchers! We hope you had a great time!
Thank You also to all the staff, guest instructors, and volunteers that came and helped throughout the week for various things. We appreciate each and everyone of you and your supoort of our band programs!
Lastly, Thank you to our sponsors for the week: Dairy Queen on Lakeshore Blvd., Pink Bandana Bakery, Great Harvest Bread, Sheila Dings with Just Sew It, Judy Freeman, Turi Photography, Yours Truly Restaurant, Giant Eagle in Mentor-on-the-Lake, Nicole Motiejunas, and the Perry Fire Department for the use of their grill. We cannot thank you enough for helping the students of Mentor High!
HUNGRY?!?!?!
Visit Chipotle on Mentor Ave on Monday, August 6th from 5 – 8 pm. Either print the flyer, or shoe this to them on your phone or mention Music Mentors, and we will earn 33% of the proceeds!!! Thank you for all your support!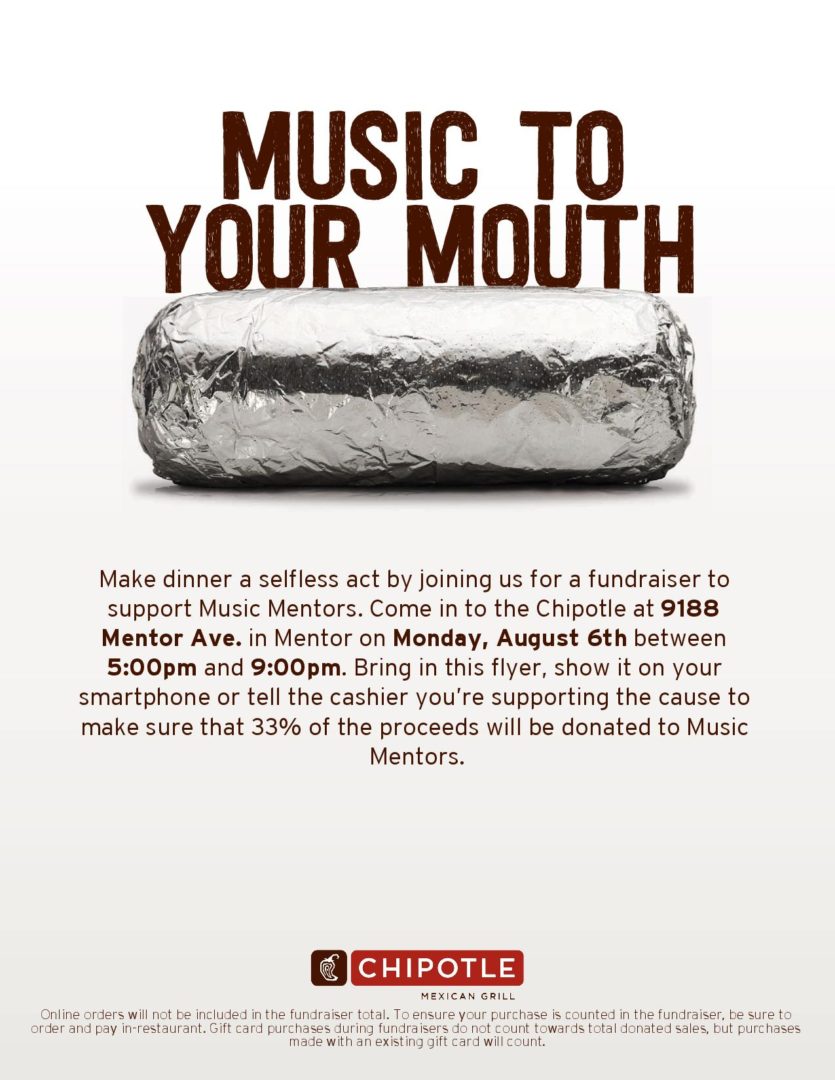 Schedule for the week!
Aug. 6 & 7th: Rehearsal is 8 am – noon
Aug. 6th: Chipotle Dine to Donate (on Mentor Ave) from 5 -8 pm
Aug. 6th: Chaperone meeting 6:30 pm in the band room. Anyone signed up to be a chaperone should attend this mtg.
Aug. 7th: Schedule pickup for all FCMB Students from 5-7 pm
Aug. 8th: Cedar Point Call time is 7 am. Students wear their red polos, a pair of black Docker-like dress pants (no stretch or yoga pants), black Dinkles and black socks. Students should bring extra clothes to change into and money for the day.
Aug. 9th: Freshman orientation 8:30 AM – 11:30 AM
Aug. 9th: Rehearsal 5 – 9 pm
Aug. 10th: Rehearsal 8 am – noon
Volunteers and Fingerprinting
Fingerprinting is required of all our volunteers. Parents and Adults that plan on volunteering in any capacity: you will be required to go to the Board of Education before you can volunteer. The summer hours will be 7:30 AM – 4 PM. Please have your drivers license with you and your Social Security number. When you arrive you will let them know which schools you have children in and also mention the FCMB. It only takes a couple minutes.
For those students/families no longer in marching band or any concert band who wish to not receive these emails, please hit the "Unsubscribe" link at the bottom of the email. Thank you.